Profile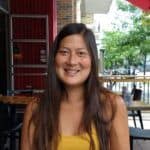 Chiaki Crews
My CV
Education:

My senior school years were split between a French state school, followed by a British school (still in France!) where I did my GCSEs and A-levels. I then went to the University of Cambridge for 4 years to study Natural Sciences (because I couldn't make up my mind about which science I liked best!), eventually specialising in Chemistry.

After that I did a masters in Security Science, doing a lab-based project in the Radiation Physics group (part of Medical Physics) at UCL, as a bit of a change! I then started a PhD in Chemistry at UCL, but stopped that for various reasons and started a fresh PhD in the Radiation Physics group, which I completed in 2017.

Qualifications:

GCSEs: Double Award Science, Mathematics, Information and Communication Technology (ICT), Geography, English Literature, English Language, Fine Art, French, Japanese

AS levels: French, Japanese

A levels: Physics, Chemistry, Biology, Mathematics

BA Hons & MSci: Natural Sciences (Chemistry), University of Cambridge

MRes: Security Science, University College London

PhD: Radiation Physics, University College London

Work History:

My first unofficial 'job' was as a babysitter for local families, whilst I was doing my A-levels. Once I went to university, I found a job to do every summer holiday (we weren't meant to take on part-time work during term time, as it was considered a distraction from studying!): the first summer I waitressed at a fancy hotel restaurant as well as occasionally working as a bellboy for the hotel (in Japan); the next summer I taught English at a school in the Basque region of Spain; and the third summer I did an internship at a Cambridge University department (the BP Institute) — my first real experience of doing proper scientific research, as I had to design the experiment and try things out… very different to the teaching labs (where you know what result you're meant to get!).

After graduating from Cambridge I worked as a waitress again, pretty much full time, for most of my gap year. I also spent one month living in Moscow to teach English.

Then once I went back to university – this time in London – to get my further degrees, I was thankfully paid by a scholarship and didn't need to take on any extra jobs.

My first research job actually came before I finished my PhD (doctorate), in the same group but working on something completely different. The aim was to detect any defects like cracks hidden within carbon-fibre composite aircraft parts.
About Me:

I've lived in Milton Keynes for 4 years since moving to work at the Open University, and like to explore and walk around the area's green spaces, canal, river and lakes. I also enjoy socialising with friends, travelling (with hiking), cooking, painting, playing games (video and board), volunteering, as well as science outreach, when I can find the time!

My Work:

Testing image sensors (the part of cameras that responds to light!) under their expected environment in space – for example, the effect of bombarding them with radiation!

My Typical Day:

I walk half an hour to get into work for 9-9:30am, and have a coffee and breakfast whilst dealing with my emails. My day is then a mix of doing lots of lab work, or attending meetings, or analysing data, or writing up reports… and other random tasks that I'm asked to help with! I also chat with colleagues about their projects and we help each other with suggestions when we run into any problems.

My Interview

What is your favourite fact about space?

Here's one I learned recently: ALL the other planets of the Solar System would fit in the distance between the Earth and the Moon (but only when the Moon is at its furthest point in its orbit)

What did you want to be after you left school?

Astronaut

Were you ever in trouble at school?

Sometimes, but rarely...

If you weren't doing this job, what would you choose instead?

Difficult to say! I guess I'd also be interested in medical technology, which has some cross overs with space technology

Who is your favourite singer or band?

I love liquid drum'n'bass music, not singers and bands :P

What's your favourite food?

Hard to choose, but I'm known for my love of chips!

If you had 3 wishes for yourself what would they be? - be honest!

To have more time to do everything I want to do, to be more confident, and to worry less
---
---
---