Profile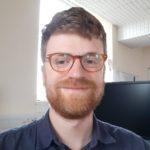 Alex Hall
My CV
Education:

I went to a state secondary school in a small town (about 3,000 people) on the Isle of Man. I did GCSEs and then stayed on to do A-Levels, where I studies Maths, Chemistry, Physics, and Biology – I liked science subjects, and was quite good at them.

I applied to a few universities in the UK – there are no universities on the Isle of Man. I had good predicted grades and got an interview at the University of Cambridge. I didn't get a place there first time but was called back for more interviews and was offered a place. I got good A-Level results and off I went. It was quite rare for people from my school to go to Oxford or Cambridge.

I studied Natural Sciences, which meant studying Physics, Chemistry, Maths, and Geology in my first year. In my second year I specialised to just Physics. I enjoyed Physics because it underpins almost all parts of science – the fundamentals of chemistry for example cannot be understood without physics.

I stayed on to do a Masters degree in my fourth year there, specialising in astrophysics. I wanted to stay in Cambridge after I graduated and was keen to keep studying, so I successfully applied to do a doctorate (a PhD). This took three more years and was very challenging, but very fun and rewarding. When I finished I could call myself Dr Alex Hall, and I had all the qualifications I needed to get a job as a professional astrophysics researcher in Edinburgh. I got my PhD shortly after my 26th birthday.

Qualifications:

GCSEs: Physics, Maths, Chemistry, Biology, French, German, History, Geography, English Literature, English Language.

A-Levels (2 year courses): Physics, Maths, Chemistry, Biology.

AS-Levels: (1 year courses): Law, Further Maths.

Honours degree and masters degree (4 years): Natural Sciences

PhD (3 and a half years): Astronomy

Work History:

At school I used to work for my uncle's housing removals business over the summer holidays. Lots of carrying heavy furniture! I didn't really have any other jobs until after university, when I got my research job in Edinburgh. Since then I've changed roles a couple of times, and am now a senior researcher.

Current Job:

I'm currently a senior research associate – this means most of my job is doing research. I also do some teaching of university students.

Employer:

The University of Edinburgh.
About Me:

I'm an astrophysicist, and I live and work in Edinburgh. Outside of work I like to cycle and play guitar (not at the same time!). I'm also into films, football, and exploring Scotland.

Read more

I'm originally from the Isle of Man, an island in the middle of the British Isles between England and Ireland. I grew up in a small town near the sea. When I was growing up I enjoyed swimming in the sea, something that I still do in Scotland when it's not too cold outside.

I have lots of interests outside of work. I enjoy getting outside into the beautiful Scottish countryside, particularly on my bicycle. I play a lot of music, particularly folk guitar and singing. When I'm not doing any of these things I like to hang out with my friends and watch films and TV.

My Work:

My field of research is cosmology – the study of the whole Universe. I am interested in dark matter – a mysterious invisible substance that seems to fill much of the Universe. I use data from big telescopes to learn about dark matter and the physics of our Universe.

Read more

I am a cosmologist, which means I study the properties of the whole Universe.

My work involves studying what's going on far out in space outside of our Milky Way galaxy. If we look far enough we see other galaxies, each containing billions of stars, whose light has taken so long to reach us that we see them at a time when the Universe was much younger than it is today. In this way, I can study the history of the Universe by looking at bright objects that are very far away.

There are many things we do not understand about our Universe, and this is what drives me to find out more.

For example, we know that are Universe is expanding – the distances between galaxies, including our own, appear to be getting larger with time. The expansion has also recently begun to get faster and faster. We think this is caused by a mysterious substance called 'dark energy', but we not understand what's really going on – I am trying to find out. Then there's dark matter, an invisible form of matter which seems to fill the Universe.

I am trying to solve some of these mysteries. To do this I use several different methods: images of distant galaxies made with big telescopes, computer and mathematical modelling, and statistical methods.

My Typical Day:

I get up around 7am, and cycle to the observatory for around 9am. My day is a mixture of writing and running computer programmes, writing scientific reports, and having meetings to discuss science projects I'm working on. I leave the office around 5pm.

Read more

My partner works near the observatory so I usually travel to work with her, either by bicycle or on the bus. The first thing I do when I arrive is get a coffee from the canteen and check the latest astrophysics news online. Then I read my emails, and check my schedule for the day.

Typically my work involves doing some computer programming or pen-and-paper maths. I'll write computer software to analyse data (usually observations of distant galaxies) and solve the complicated equations that describe the physics of our Universe. I'll take a break at 11am and go for coffee in the canteen with colleagues. Throughout the day I'll have meetings that usually last an hour, either in-person or online. At these meetings we'll talk about the latest results in our area of science research, or about how we're progressing with our own work. These meetings are often with colleagues from all over the world, in many different time zones.

I'll have lunch at 1pm in the canteen and then get back to work. I'll usually have another break around 3.30pm, and then leave the office around 5pm. I'll usually get home around 6pm.

What I'd do with the prize money:

I would use the money to make set of astronomy-themed T-shirts. The shirts would be sustainably made and feature astronomy designs such as the planets of the Solar System or Black Holes. I would give the shirts away for free at public talks I give in Scotland.

My Interview

How would you describe yourself in 3 words?

Pondering the Universe

What did you want to be after you left school?

I honestly didn't know

Were you ever in trouble at school?

Not very much

If you weren't doing this job, what would you choose instead?

I'd work in healthcare or environmental science, using my data analysis skills to help people

Who is your favourite singer or band?

Bob Dylan

What's your favourite food?

Any kind of pie

If you had 3 wishes for yourself what would they be? - be honest!

I'd like to be an amazing chef and make delicious meals without thinking about it. I'd like to be a radio DJ and play get paid to play my favourite music all day long. I'd also like to wear through socks less than I currently do.

Tell us a joke.

Did you hear the joke about the monorail? It's a great one-liner.

My profile link:
https://ias.im/u.332873
---
---
---