Profile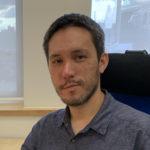 Christopher Chen
My CV
Education:

Secondary school (GCSEs and A-Levels): St Dunstan's College, 1996-2003

University (undergraduate and postgraduate degrees): Imperial College London, 2003-2011

Qualifications:

10 GCSEs

1 AS-Level (Chemistry)

4 A-Levels (Physics, Maths, Further Maths, Music)

DipABRSM in piano performance

Undergraduate degree (MSci in Physics)

Postgraduate degree (PhD in Space Plasma Physics)

Fellow of the Higher Education Academy

Work History:

Researcher, University of California Berkeley

Research Fellow, Imperial College London

Lecturer and Research Fellow, Queen Mary University of London

Employer:

Queen Mary University of London
About Me:

I live and work in London. During the day I'm a researcher studying space. My hobbies include playing music, reading, travelling, swimming, watching films, comedy, learning new things, and experiencing the variety that life has to offer.

My Work:

I study space using data from spacecraft to learn new things about the Sun and its effects through the solar system.

Read more

In particular, I study the solar wind, which is the stream of particles emitted by the Sun that fills our solar system. It is so hot that is is a state of matter we call plasma, which behaves very differently to the solids, liquids and gasses we are familiar with here on Earth. As well as being fascinating, this solar wind can have many important effects, such as space weather.

As part of my job, I also teach physics at the university where I work. I give lecture courses on Astrophysics, and supervise students doing their practical projects as part of their degrees. I enjoy both the research and teaching parts of my job.

My Interview

What is your favourite fact about space?

Most of it is not solid, liquid or gas: it is the 4th state of matter we call plasma!

How would you describe yourself in 3 words?

physicist studying space

What did you want to be after you left school?

I wasn't sure. I pursued the things I enjoyed most while keeping as many options open as possible, leading to where I am now.

If you weren't doing this job, what would you choose instead?

If I wasn't in this field at all, I'd probably have tried to make a career in music.

Who is your favourite singer or band?

Too much great music out there to have favourites.

Tell us a joke.

What's the difference between a duck?
---
---
---