Profile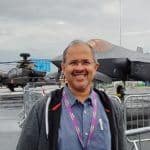 Aditya Mandrekar
My CV
Education:

I grew up in Mumbai in India, where I did the equivalent of my GCSE in a school called St. Xavier's and my A-level equivalent at a college named KC (in Science, with Physics, Chemistry, Biology, Mathematics and two languages). My uni was at the University of Mumbai in a college called Sardar Patel College of Engineering. I also got a Masters degree the UK at Cranfield University. At Cranfield my course was called "Aerospace Vehicle Design" where we were taught how to design aircraft, and I specialised in the design of Avionic Systems – specifically the electronics equipment that goes in aircraft to help them fly, navigate and communicate.

Qualifications:

10th grade (SSC – GCSE equivalent): 79%

12th grade (HSC – A-level equivalent): 77% (93% in Physics, Chemistry & Mathematics)

Bachelor in Electrical Engineering: First Class

Masters in Aerospace Vehicle Design (Avionic Systems) – University doesn't allocate classes.

Work History:

My work history is mostly based around writing a specialised type of software called "embedded software". This software doesn't run on computers like laptops and desktops, but on little "micro" controllers and can be used to control anything from the timers on your microwave ovens, to scientific instruments in labs, to medical equipment in hospitals and to aircraft and satellites.

I have worked on code for wireless central heating systems, steering wheels for cars, cockpit displays for planes and automatic navigation and control of drones.

Current Job:

I work at a company that makes satellites, and my work is to make sure the software that goes into a satellite (and also on ground equipment that talks to one) is bug-free and does everything the satellite needs to do its mission. Our satellites can be used for applications like understanding how global warming and deforestation are impacting our environment, listening to distress calls from ships that are in trouble and keeping track of wildlife in remote forests.

Employer:

The company I work for is called In-Space Missions, it is a small but rapidly growing company that has more than 70 people of all ages and backgrounds and technical qualifications, and you don't even have to have a degree to work there!
About Me:

I am a satellite software systems engineer who works for a small but fast-growing company in Hampshire. I have previously written software that is installed on products in the cockpits of large airplanes. I am also a cricket player, and I like reading Science Fiction and Fantasy.

Read more

I work at a company named In-Space Missions. We have one satellite already in orbit around the earth, launched in 2021, and we have many more such missions planned over the next few years. At In-Space, I work to ensure the software team write code to a good standard, and that the software is written to the specification. Before this, I worked for a company that makes parts for aircraft, and the project I worked on involves a large future Boeing plane.

In my spare time I play cricket in the summer for a local village team, for whom I bat and bowl spin. I like reading Science Fiction and Fantasy novels, my favourite authors are Terry Pratchett, Steven Erikson and Ursula K. le Guin. I also like baking, especially breads.

My Work:

I am a software systems engineer – Systems engineers ensure that the specifications for a project are correct and that the parts of the project meet the specifications. I do this for the software part of satellites.

Read more

There is a lot of software on satellites. It is used to keep the satellite steady and stable, in the correct orbit, to perform its missions (take photos, track wild animals, listen for emergency calls) and to send data and receive commands. Once a satellite is launched, it cannot be repaired and it is difficult to update it so the software has to be of a high standard.

There is also a lot of software on the ground: to communicate with the satellite, to monitor its data, to allow customers to interact with it.

I help set the rules for the people doing the software and advise them on what parts are important and how to choose the best code for the best results.

My Typical Day:

A typical day of mine starts somewhere between 9 and 9:30 at the office or at home. I attend meetings, I write documents, I read code and am back home by 6-6:30. I may go for cricket training or for a run after work.

Read more

We have flexible working hours so we don't have to start at a fixed time, and we don't have to work for a fixed number of hours every day as long as the total over a week meets the required number. As I am a senior engineer, a lot of my work is decision-making and advising the team on the work to be done.

At the moment I'm specifically helping with getting the software for the ground segment part of the system – the part that talks to the satellites – up and running for future missions.

What I'd do with the prize money:

Use it as prize money for a contest for young children in schools to design a spacecraft, to promote science (especially space science) to them.

My Interview

What is your favourite fact about space?

The you can use "solar sails" to propel spacecraft!

How would you describe yourself in 3 words?

Software Done Correctly

What did you want to be after you left school?

An aircraft engineer

Were you ever in trouble at school?

I was never caught!

If you weren't doing this job, what would you choose instead?

I have already been an aircraft engineer and I loved it

Who is your favourite singer or band?

Favourite band: U2. Favourite musician: A.R. Rahman

What's your favourite food?

My mum's mushroom soup

If you had 3 wishes for yourself what would they be? - be honest!

To be fitter, to be able to sing well and to have more hair on my head!

Tell us a joke.

There are 10 kinds of people: Those who understand binary and those who can't!

My profile link:
https://ias.im/u.332890
---
---
---