Profile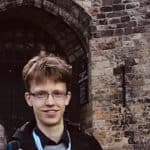 Jack Reid
My CV
Current Job:

Employer:

University of St Andrews
About Me:

I'm an Applied Maths researcher in St Andrews, Fife, studying the Sun, largely because I never see it!

My Work:

I study the Sun, and how its atmosphere is heated: it reaches millions of degrees!

My work looks at how avalanches cause the heating.

Read more

Inside the Sun, the temperature decreases moving further outwards, as seems obvious. But, after reaching the surface, this reverses, and the temperature increases higher and higher into the atmosphere. So, why? We know that the Sun has a magnetic field, which is far stronger than Earth's, and it is responsible.

Small explosions happen—mini solar flares, really—and these trigger other small events in a chain reaction, which we call an avalanche. In the same way, one snowball rolling down a mountain can start many more rolling down, leading to a snowy avalanche. Combined, these explosions create enormous heat.

My Typical Day:

Most of my day is (sometimes unfortunately) spent behind a computer. When I get to work, I use computers to simulate what happens on the Sun, by solving the physical equations. Studying the results, I try to work out what is happening, and why.

My time is not spent only on research: I also teach some of the University students in Maths, which I love doing. Debugging computer problems I love a bit less. And academics spend a lot of time dealing with emails!

My Interview

What is your favourite fact about space?

If you know pi to 39 decimal places, you can calculate the circumference of a cirlce the size of the Universe with an error smaller than an atom (so there is no point in being one of those people learning pi to thousands of decimal places...)

Tell us a joke.

Donald Trump.
---
---
---