Profile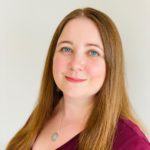 Jessica Irving
My CV
Education:

School – King Henry VIII in Coventry

Undergraduate – University of Cambridge (Physics)

PhD – University of Cambridge (Earth Sciences)

Qualifications:

GCSEs, A-levels, MSci, PhD

Work History:

Previous job –  Assistant Professor at Princeton University, which is in the USA about an hour south of New York.

My first full time science job was as a researcher at the University of Cambridge, after I finished my PhD. Futher back than that, I worked in a library as a summer job when I was a student.

Current Job:

I'm currently a Senior Lecturer in Geophysics

Employer:
About Me:

I'm a seismologist and senior lecturer at the University of Bristol. I live not too far from the University where I work. I enjoy cycling to work. In the evenings I can sometimes be found crocheting.

My Work:

I use distant quakes to learn more about the centre of Earth and Mars.

Read more

I'm a geophysicist – I use physics to study planets. The deepest layers of planets like Mars and the Earth are the rocky mantle and metallic core.  We can't dig down to the mantle or core – they are too deep. Instead, scientists like me use records of ground shaking from marsquakes and earthquakes to investigate the inside of Mars and Earth. Working out how long it takes signals from quakes to travel through the different layers of a planet is how we work out what Earth and Mars are made from, and how they have changed since the beginning of the solar system.

My Typical Day:

My typical day depends on whether I am  teaching university students, or whether I am spending all my day thinking about seismology.

Read more

This autumn, I'm teaching first year geoscience students about how we can use physics to understand the Earth. My lectures are at 9am or 10am, so I have to be ready before then! After lectures or practicals, I spend time doing research. I don't have a laboratory – my science happens on a computer. I often have meetings online with other researchers from the UK, Europe and the USA.

What I'd do with the prize money:

I'd like to use the money to help buy a seismometer to record ground shaking here in Bristol. Things humans do – like driving around – create shaking which seismometers can detect, even if humans can't feel it. I'd be able to use this seismometer to show students how we can use geophysics to understand how human behaviour  interacts with our environment.

My Interview

How would you describe yourself in 3 words?

seismologist listening for quakes

What did you want to be after you left school?

I always wanted to be a scientist

Were you ever in trouble at school?

No - I was pretty quiet

If you weren't doing this job, what would you choose instead?

I honestly don't know!

Who is your favourite singer or band?

Probably Taylor Swift!
---
---
---