Profile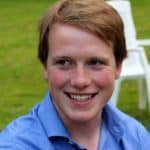 Tom Louth
My CV
Education:

I went St Pauls CofE primary, then Kings College School, then The Perse

I studied Engineering at Cambridge University

Qualifications:

I did Maths, Physics, Chemistry, Biology, Geography, French, Latin & English GCSEs

I did Double Maths, Physics, Chemistry and DT A-Levels

I have a Master of Engineering (MEng) degree in Manufacturing Engineering.

Work History:

My first job after graduating was as a waiter, and washer-upper in a restaurant.

Then I worked for a product design consultancy for two years. That is where I designed toothbrushes.

Then I worked for a year for a small company of 12 people designing parts for electric cars.

I also used to work as a dinghy sailing instructor during the summer holidays.

Employer:

I work at the Royal Observatory in Edinburgh, which is part of the Government (we call this the Public Sector). My salary is paid for by taxpayers and the Business Minister (currently Jacob Rees-Mogg) is ultimately my boss.
About Me:

I live in Edinburgh in Scotland, and I enjoy climbing and running. I live with two dogs.

Read more

I grew up in Cambridge, then moved to Warwick (near Birmingham) after university. Unfortunately neither of those places have mountains which was a problem because I love climbing. I moved to Edinburgh in 2019 with my two dogs: Blue and Sprout. I take them camping and hiking in the North of Scotland whenever we get the chance.

My Work:

I design scientific instruments for astronomy, measuring light from the faintest stars and galaxies ever seen. I used to design toothbrushes, deodorant cans and electric cars.

Read more

I work for the UK Astronomy Technology Centre which is part of the Government. We work with other organisations across Europe to design scientific instruments. These instruments are mounted on large astronomy telescopes in places like Chile and the Canary Islands. They collect the light from the telescopes (either visible or infra-red) and pass it through lots of lenses and mirrors. This allows the scientists to see exactly which colours (wavelengths) of light are being emitted by stars and galaxies and so work out what they are made of, how old they are and so on.

The clever thing about these instruments is that in order to avoid interference from thermal noise (which is what makes photos taken in dim light "grainy") they are cooled down to about 2 degrees above absolute zero, which is -273 degrees Celsius. This requires us to use clever fridges and insulation – I basically build giant, very precise, thermos flasks.

My Typical Day:

My days involve lots of meetings. The projects are very big and so there are lots of people who have to agree on everything. When I don't have meetings I spend time in the workshop building and testing things. I also work at my desk, drawing parts on the computer and sketching ideas on a whiteboard. Sometimes I even do maths but not very often.

Read more

In the workshop I use lathes, band saws and other hand tools to construct prototypes. These vary from small metal parts that take a few hours to very complicated assemblies that take weeks to build. I then test them to check that my design is good.

In the office I work at my computer a lot, using CAD to draw my designs. I check if the designs are strong enough using very clever software called FEA which simulates real structures. This has revolutionised engineering in the last few decades because we can be sure everything will work before we build it.

I also use Powerpoint most days to make presentations to show people my work. Often these are very simple slides with pictures to help with a discussion in a meeting, sometimes they are very detailed for sharing with important people.

Due to coronavirus my office looks a bit different at the moment:

What I'd do with the prize money:

I would build a complete demonstrator model of the telescope and instrument I am working on

My Interview

What is your favourite fact about space?

Galaxies don't look smaller as they get further away because we are seeing light that left the galaxy when the universe was young and small. This means that the galaxies took up more of the sky back then, and so they still look big now.

How would you describe yourself in 3 words?

Really, really cool

What did you want to be after you left school?

An architect

Were you ever in trouble at school?

Once or twice

Who is your favourite singer or band?

Pink Floyd

What's your favourite food?

Pizza

Tell us a joke.

What goes Ha Ha Bonk? A man laughing his head off!
---
---
---